Custom Service : Iodine 125 synthesis and labelling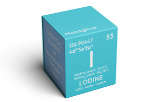 We offer a comprehensive radioisotope custom synthesis service with Iodine 125 (I-125).
We perform Iodination of peptides and proteins, as well as small molecules. Generally, Iodine-125 is incorporated into available tyrosine residues under oxidative conditions. Various compatible oxidative reagents of differing strengths exist (e.g. Chloramine-T, Iodogen, Lactoperoxidase) and can be chosen to accommodate sensitive molecules.
Additionally, for compounds lacking a tyrosine or histidine or are simply incompatible with other iodination techniques, labeling of free amines can occur through the use of Iodine 125-Bolton-Hunter Reagent.
Due to the wide variety of compounds amenable to Iodine 125 labeling and a number of variables involved to achieve desired specifications, please contact us to discuss your project's needs.