Erlenmeyer Flasks: The Secret to Cost-Effective and Versatile Research (And They're 50% Off!)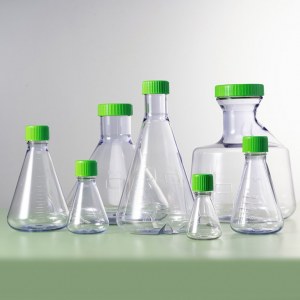 Transform Your Research with Our Versatile and Cost-Effective Erlenmeyer Flasks
50% off
Until: 31-08-2023
Our high-quality Erlenmeyer flasks are the perfect solution for all your suspension cell culture and storage needs. Designed to accommodate bacteria, fungi, animal, and plant cells, these versatile flasks provide a reliable and efficient tool for your research. Plus, our disposable flasks are not only more convenient than traditional flasks, plates and dishes, but also more economical. Invest in our Erlenmeyer flasks today and experience the benefits of a cost-effective and reliable solution for your research needs.
Features:
The body is made of medical polycarbonate (PC), which meets the requirements of ISO10993 USP (661).
The advantages of PC are high transparency, strong impact resistance, oxidation resistance, and high-temperature resistance up to 121 ° C.
A clear and accurate scale on the outer wall is convenient to read the volume.
An optional sealed cap or vent cap with a 0.22μm PTFE membrane is air-permeable and allows gas exchange without contamination.

Automatically produced in a self-owned GMP workshop with reasonable consistency, stable supply, and cost control.
DNase/RNase-free, pyrogen-free, and precipitation-free.
Individual packaged and radiation sterilized, highest Sterility Assurance Level (SAL) of 10-6.
Suitable for small-scale development, cell culture scale-up, and other training stages.
List of Products
Cat#
Description
Cond.
23101
Erlenmeyer Culture Flask, Vent Cap, 125mL
24Pcs/carton
23102
Erlenmeyer Culture Flask, Seal Cap, 125mL
23201
Erlenmeyer Culture Flask, Vent Cap, 250mL
12Pcs/carton
23202
Erlenmeyer Culture Flask, Seal Cap, 250mL
23301
Erlenmeyer Culture Flask, Vent Cap, 500mL
23302
Erlenmeyer Culture Flask, Seal Cap, 500mL
23401
Erlenmeyer Culture Flask, Vent Cap, 1L
23402
Erlenmeyer Culture Flask, Seal Cap, 1L
Cat#
Description
Cond.
23501
Erlenmeyer Culture Flask, Vent Cap, 2L
6Pcs/carton
23502
Erlenmeyer Culture Flask, Seal Cap, 2L
23601
Erlenmeyer Culture Flask, Vent Cap, 3L
4Pcs/carton
23602
Erlenmeyer Culture Flask, Seal Cap, 3L
Cat#
Description
Cond.
23701
Erlenmeyer Culture Flask, Vent Cap, 5L
4Pcs/carton
23702
Erlenmeyer Culture Flask, Seal Cap, 5L