European distributor for life science and diagnostic labs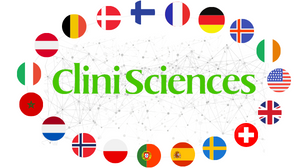 As a recognized distributor in the scientific research and diagnostics sector, Anawa positions itself as a key player linking manufacturers of quality products worldwide with researchers in Europe and North America. Anawa is positioned to serve both customers and manufacturers:
Customers, by meeting their needs in fields as varied as cell biology, immunology, oncology, biochemistry and plant research.
Manufacturers, by acting as a local intermediary to help them identify and interact with potential customers.
A wide range of products in many scientific fields:
Anawa sets itself apart by offering a complete range of products, including reagents, consumables, instruments, biological samples, services, contract manufacturing… This enables researchers to find everything they require in one place.
A team of scientific advisors in the field:
The presence of a team of several dozen scientists in the field is one of Anawa' strengths. Our experts visit customers' laboratories across Europe to discuss their specific needs and offer tailor-made solutions. This proximity to researchers guarantees an in-depth understanding of each customer's needs.
Quality local technical support:
Over and above scientific advice in the field, Anawa also has a team of qualified scientists (PhDs) in the various offices. They are ready to answer customers' technical questions in their local language and collaborate with them to co-create innovative research projects.
A group that recruits mainly in the scientific field:
The Anawa group is proud to recruit a large majority of its employees from the scientific field. Apart from the administrative and IT departments, the majority of our hires are scientists with Master's, PhD or post-doctoral degrees in Biology/Biochemistry/Chemistry. As a result, our customers benefit from optimal service, whatever their request (quotation, order, technical question, scientific project) or expectations (marketing, sales).
A social, ethical and environmental commitment:
Anawa stands out for its social, ethical and environmental commitment, and ensures that its partners are equally committed.
On a human level, we ensure respect for all, whether it be our employees, customers, or partners. We also aim for employee fulfillment by creating a healthy, respectful and motivating working environment, while offering fair opportunities and facilitating internal mobility within the Group.

On the environmental front,

we favour biodegradable packaging, we centralise 95% of our product traffic around centralised logistics in Europe, and limit transport by grouping products received and sent together as much as possible. In this way, we contribute to reducing the environmental impact of our operations.
Find out more here.
ISO 13485 certification:
ISO 13485 certification testifies to our commitment to quality and compliance with international standards.
A Group focused on innovation:
The Anawa Group is heavily involved in the development of new technologies in both research and diagnostics.
Our worldwide presence:
German

Austria

Belgium

Denmark

Biotrend Chemikalien GmbH
Biotrend Chemikalien GmbH
Anawa S.R.L
Anawa ApS

Wilhelm-Mauser-Str. 41-43,

50827 Köln

Germany

Telephone : +49 221 9498 320

Fax : +49 221 9498 325

Email : info@biotrend.com

Web : https://www.biotrend.com

Sternwartestrasse 76,

A-1180 Wien

Austria

Telephone : +43 720 115 580

Fax : +43 720 115 577

Email : info@biotrend.com

Web : https://www.biotrend.com

Avenue Stalingrad 52,

1000 Brussels

Belgium

Telephone: +32 2 31 50 800

Fax : +32 2 31 50 801

Email : belgium@clinisciences.com

Web : https://www.anawa.ch

Oesterbrogade 226,

st. 1,Copenhagen, 2100

Denmark

Telephone : +45 89 888 349

Fax : +45 89 884 064

Email : danmark@anawa.ch

Web : https://www.anawa.ch

Spain

Finland

France

Ireland

Quimigen S.L.
Anawa ApS
Anawa S.A.S
Anawa Limited

C/ Hermanos del Moral 13 (Bajo E),

28019, Madrid

Espagne

Telephone : +34 91 269 40 65

Fax : +34 91 269 40 74

Email : pedidos@quimigen.com

Oesterbrogade 226,

st. 1, Copenhagen, 2100

Danemark

Telephone : +45 89 888 349

Fax : +45 89 884 064

Email : suomi@clinisciences.com

Web : https://www.anawa.ch

74 Rue des Suisses,

92000 Nanterre

France

Telephone : +33 9 77 40 09 09

Fax : +33 9 77 40 10 11

Email : info@anawa.ch

Web : https://www.anawa.ch

Ground Floor, 71 lower Baggot

street Dublin D02 P593

Irlande

Telephone : +353 1 6971 146

Fax : +353 1 6971 147

Email : info@anawa.ch

Web : https://www.anawa.ch

Iceland

Italy

Norway

Netherlands

Anawa ApS
Anawa S.r.l
Anawa
Anawa B.V.

Oesterbrogade 226,

st. 1,Copenhagen, 2100

Denmark

Téléphone : +45 89 888 349

Fax : +45 89 884 064

Email : island@clinisciences.com

Web : https://www.anawa.ch

Via Maremmana inferiore 378

Roma 00012 Guidonia Montecelio

Italy

Téléphone : +39 06 94 80 56 71

Fax : +39 06 94 80 00 21

Email : italia@anawa.ch

Web : https://www.anawa.ch

74 Rue des Suisses,

92000 Nanterre

France

Email : norge@anawa.ch

Web : https://www.anawa.ch

Gaetano Martinolaan 85,

6229 GS Maastricht

Netherlands

Téléphone : +31 85 2082 351

Fax : +31 85 2082 353

Email : nederland@clinisciences.com

Web : https://www.anawa.ch

Poland

Portugal

United Kingdom

Sweden

Anawa sp.Z.o.o.
Quimigen Unipessoal LDA
Anawa Limited
Anawa ApS

ul. Rotmistrza Witolda Pileckiego 67 lok. 200

02-781 Warszawa

Poland

Telephone : +48 22 307 0535

Fax : +48 22 307 0532

Email : polska@anawa.ch

Web : https://www.anawa.ch

Rua Almada Negreiros, Lote 5, Loja 14,

2615-275 Alverca Do Ribatejo

Portugal

Telephone : +351 30 8808 050

Fax : +351 30 8808 052

Email : info@quimigen.com

Web : https://www.quimigen.pt

11 Progress Business center, Whittle

Parkway, SL1 6DQ Slough

United Kingdom

Telephone : +44 (0)1753 866 511

or +44 (0) 330 684 0982

Fax : +44 (0)1753 208 899

Email : info@anawa.ch

Web : https://www.anawa.ch

Oesterbrogade 226,

st. 1,Copenhagen, 2100

Denmark

Telephone : +45 89 888 349

Fax : +45 89 884 064

Email : sverige@clinisciences.com

Web : https://www.anawa.ch

Switzerland

Anawa Trading S.A

Marktgasse

18 8302 Kloten

Switzerland

Telephone : +41 (044) 805 76 81

Fax : +41 (044) 805 76 75

Email : contactus@anawa.ch

Web : https://www.anawa.ch
Morocco

U.S.A

Hexabiogen s.a.r.l.a.u
Biotrend Chemicals LLC

Lotissement Al Izdihar extension,

N 211,Marrakech

Morocco

Telephone: +212 5 24 35 84 75

Fax: +212 5 24 35 84 73

Email: marocinfo@hexabiogen.com

c/o Carr Riggs Ingram,

500 Grand Boulevard, Suite 210

Miramar Beach, FL 32550

U.S.A

Telephone: +1 850 650 7790

Fax: +1 850 650 4383

Email: info@biotrend-usa.com