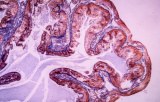 Detection kits for IHC
Immunohistochemistry is a technique of histology aimed at locating a target protein in a tissue. There is also a derived technique, immunocytochemistry (ICC) which has the same principle but aims to localize a given protein in isolated cells.
It is important to choose the appropriate combination of antibodies and the correct detection system in order to obtain the best possible results depending on the sample and the target protein.
Detection kits for immunohistochemistry (IHC)
usually contain
detection antibodies and detection system
(depending on the method chosen) as well as
blocking and dilution buffers
and the
substrate
. There may be variants depending on the kits and your needs: with or without buffers, with or without substrates ...
We propose kits for the
2 main methods
used for detection in immunohistochemistry: the
ABC method
which uses an
Avidin (streptavidin) / Biotin complex
and the method that uses
enzyme polymers to amplify the signal.
| | |
| --- | --- |
| | |
| ABC Method | Polymer Method |