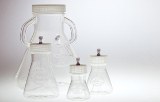 Flasks and Accessories for Mammalian / Insect Cells
The advantages of Optimum Growth Flasks (patented) can be attributed to a fairly simple principal of good mixing and high oxygen transfer rate helping cells grow to higher densities. Increased aeration is achieved through a patented baffle design along with a large diameter neck and gas permeable cap.
The innovation in Optimum Growth product line does not end with a single flask. Thomson has worked with its customers to reduce the footprint of its flasks in such a way to maximize space in the most commonly used cell culture incubators. In the tradition of evolving to fit customer needs, Thomson has introduced a line of companion products that work along with the Optimum Growth Flasks. These include caps, lids & ports that allow the sterile transfer of fluid into and out of the flasks. Current cell culture processes often involve longer culture durations that require both sampling over time and batch feeds. Thomson products support these existing workflows and help to streamline the process wherever possible.
Key Features
Baffles designed for High Aeration & Low Shear

Same Footprint as Comparable Fernbach Flask

Less Foaming than Disposable Fernbach

Transfer Cap option connects directly to cell bags & bioreactors with quick connect, luer lock or tube fusing

.2μm Vented Cap

Individually Packaged and Sterilized