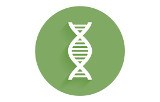 DNA polymerases for long fragment amplification (Long Range PCR)
The polymerase chain reaction (PCR) has been used extensively in the amplification of DNA fragments where there is a general size preference for products less than 1000 bp. Larger products may be synthesized at low or inefficient levels and then normally after considerable effort in reaction optimization. The maximum amplifiable length of PCR is limited by the low fidelity of the Thermus aquaticus (Taq) DNA polymerase, the most commonly used thermostable polymerase. This limitation is thought to be due to the error‐prone nature of the Taq polymerase, whereby those transcripts that end in an error (a misincorporated base) are not efficiently reinitiated and extended.
Long range PCR allows the amplification of PCR products, which are much larger than those achieved with conventional Taq polymerases. Up to 27 kb fragments are possible from good quality genomic DNA. Amplification of long DNA fragments is desirable for numerous applications such as physical mapping applications and direct cloning from genomes.