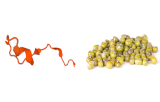 Vigna radiata Lectin (VRA)
Vigna radiata agglutinin (VRA) is isolated from mung bean seeds and is composed of two major lectins, MBL I and MBL II. MBL I is a tetramer that has a molecular weight of 132 kDa with -galactosidase activity. MBL II is a diamer of two monomeric proteins of 94 kDa and 89 kDa with -galactosidase activity. Both are D-galactose-specific lectins.
Affinity purified VRA agglutinates rabbit blood cells and is galactose-specific. Amino acid analysis of the purified mung bean lectin by reverse phase HPLC revealed that it contains glutamate in highest proportion followed by aspartate and histidine, indicating that it has a good zinc binding potential. Binding VRA with zinc improves overall stability and efficacy of the lectin. Calcium and magnesium ions are required for binding.
Search result : 35 product found
Refine your search :
Unconjugated

16

Agarose

6

AP

1

Biotin

1

Cy3

1

Cy5

1

DyLight 488

1

FITC

1

Gold

1

HRP

1

TRITC

1

Texas Red®

1