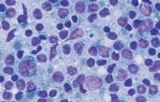 Special stains for nucleic acids
Nucleic acids are present in many forms within cells.
There are two types of nucleic acids, deoxyribonucleic acid (DNA), which is found mainly in nuclei, and ribonucleic acid (RNA), which is found mainly in the cytoplasm of cells, in ribosomes. Nucleoproteins are a combination of basic proteins and nucleic acids.
The DNA and RNA molecules are composed of sugars and phosphate groups with a nitrogen base attached to each sugar. The sugar of DNA is deoxyribose and that of RNA is ribose.
The visualization of the nucleic acids depends either on the reaction of the dyes with the phosphate groups or the production of aldehydes from sugars.
The preferred stains for DNA are Feulgen staining (which reacts with deoxyribose) and methyl green-pyronine staining (which results from the reaction of the phosphate groups with the dye at acidic pH).
The method of choice for RNA visualization is methyl green-pyronine staining.