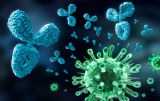 SARS-CoV-2 - Antibodies for research and development
The ongoing COVID-19 pandemic has sickened over 520,000 people worldwide. There is an urgent need to increase the current diagnosis capacity. Compared with the commonly-used PCR testing, serological assay-based diagnostic method is much easier and faster to perform. To support the development of immunodiagnostic methods, we offer a complete collection of antibodies and antigens for SARS-CoV-2.
We other both primary and secondary antibodies for detection and diagnostic tools development :
Primary antibodies against the 2 main protein of SARS-CoV-2 : Nucleocapsid protein (N protein) and Spike protein (S protein)
Secondary antibodies against human IgG and IgM antibodies in order to detect the anti-SARS-CoV-2 in patient samples
These antibodies can be used to quantify antigens on the surface of SARS-CoV-2 (or antigens expressed recombinantly) or anti-SARS-CoV-2 antibodies in patient samples.