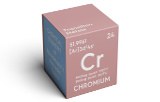 Chromium 51 (Cr-51)
Chromium is a metallic element (atomic number: 24, atomic mass: 51.99), it is a mineral essential in the action of insulin and is present in very small quantities in many enzymes. Chromium is also present in many foods such as brewers' yeast, seeds, peanuts, wheat germ and skimmed milk.
Chromium 51 (Cr-51) is a radioactive isotope of chromium with a half-life of 27.7 days, its decomposition being by capture of an electron with gamma-ray emission. Chromium 51 is used for the labeling of red blood cells for the evaluation of mass or volume, survival time and sequestration studies, and for the diagnosis of gastrointestinal bleeding. Chromium 51 is also used for labeling platelets to study their services.
Chromium 51 (Cr-51) release assays are commonly used for precise quantitation and cytotoxicity, particularly in the study of tumor and viral cytolysis. The assay is used to determine the number of lymphocytes produced in response to infection or drug therapy.
Search result : 3 product found